Non-bylined work samples:
School nurses offer solace, support to students figuring out gender issues, Maine Center for Public Interest Reporting
From coughs and colds to diabetes management to emotional breakdowns, school nurses see it all. They're frequently the first medical professionals students see. They play an especially pivotal role for LGBTQ students, but with many school nurses stretched thin by tight budgets in Maine, meeting the needs of these students is challenging.
---
This grant program makes sure cancer patients get massage, Massage Magazine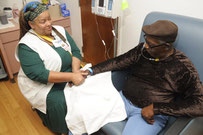 Massage therapist Marcia Patterson, LMT, greets patients undergoing cancer treatment with a comforting lilt in her voice and a big smile ~ because not every cancer patient is keen on the idea of getting a massage. "They're people who are afraid of a lot of things because they've been hurt and prodded."
Read the story here. 
---
Estate protection: plan early, plan often, Medical Economics
Estate planning may not be the first item on the to-do list once physicians complete residency and start practicing, but it should be.
---
Lines of credit for medical practices, Medical Economics
It is a common business strategy for medical practices to use lines of credit from a bank or other financial institution. With this business tool, medical practices reap many benefits, including the ability to bridge unexpected shortfalls in cash flow.
---
Future of senior living business success depends on getting the right tech, Healthcare Finance News
Savvy financial officers at senior living facilities know that the key to the future of their business is care coordination. Trouble is, financial officers can't unlock that future because the technological key, a comprehensive electronic medical record system, is not yet available to the senior living market. One provider, though, is trying to change that. Read the story here.
---
Letting go of the balance sheet, Healthcare Finance News
The likelihood that healthcare organizations are going to take a financial hit as they transform from fee-for-service to value-based businesses is sure to cause CFOs anxiety and panic. Here are some tips for letting go of the balance sheet. Read the story here.
---
Fraud recoveries on the rise, Healthcare Finance News
GlaxoSmithKline, $3 billion. Abbott Laboratories, $1.5 billion. Merck, $950 million. Senior Care Action Network, $323.7 million. Actavis, $202.6 million. The numbers are eye-popping. Now for the jaw drop: of these top five healthcare False Claims Act settlements in 2012, all were initiated by whistle-blowers.
The healthcare industry is on notice: Fraud recoveries in the healthcare sector are on the rise and whistle-blowers are the biggest weapon in the fight against fraud. Read the story here.
---
Long-term care operators use music therapy programs to calm and attract, Healthcare Finance News
With recent studies indicating that music reduces agitation and depression in people with dementia and Alzheimer's disease, long-term care operators have begun adding music therapy programs to the services they offer residents. One operator is finding that using music therapy is benefitting the business as well as the residents. Read the story here.
---
Immigration reform may solve long-term care worker shortage, Healthcare Finance News
Immigration reform is once again being taken up in the country's capital, and depending on the final shape it takes, it could be a boon for the long-term care industry. Read the story here.
---
Disruptive Innovators: CEO Champions, Healthcare Finance News
When Steve Woods' wife was pregnant, he put on what he calls "sympathy weight." That was a dozen years ago. "She went back to her svelte, in-shape figure and I've maintained the sympathy weight," he said. Read the story here.
---
Valuing customer service in healthcare, Healthcare Finance News
Just over a decade ago, members of Arkansas Children's Hospital's management decided to go to Disney World. It wasn't a fun-and-games trip, although fun was had. They went to learn about developing a culture that would support everyone working at the hospital and everyone using hospital services. Arkansas Children's was ahead of a trend recently taking hold in the healthcare industry: valuing customer service. Read the story here.
---
Solo practice physicians: 'I'm not dead!', Healthcare Finance News
The impending demise of solo physician practice has been predicted for several years now. In early July, recruitment firm Merritt Hawkins put the proverbial nail in the coffin of solo physician practice by declaring it officially dead. But like the old man in 1975's "Monty Python and the Holy Grail" protesting "I'm not dead!", doctors aren't ready to be hauled off for burial. Read the story here.